Gracezone HVLS Fans · Cooling Simplified
What Are HVLS fans
Large spaces are difficult to cool and incur costly energy bills if you rely solely on air-conditioners. High-speed commercial fans commonly available creates fast turbulent air streams, but are noisy and too "windy" for comfort.
A more elegant and effective solution is using High-Volume Low-Speed, or commonly known as HVLS fans, that rely on size, not speed, to move massive amounts of air. Originally designed for large spaces such as warehouses and factories, HVLS fans have evolved as technology rapidly improved. They are now used in industrial warehouses, commercial spaces, and residential homes, often working in conjunction with HVAC (heating, ventilation, and air conditioning) systems for energy savings. In fact, energy-efficient HVLS fans have quickly assumed a leading role in the green building movement.
Latest HVLS Fans Technology – BLDC Motors
The core component of our latest HVLS fan is its Brushless DC (BLDC) motor. The main advantage of this technology is its energy efficiency.
Older HVLS fans come with chunky and industrial looking AC motors which typically consumes 1KW to 3KW of energy – 10 times more than a BLDC motor which needs just 100W to 300W.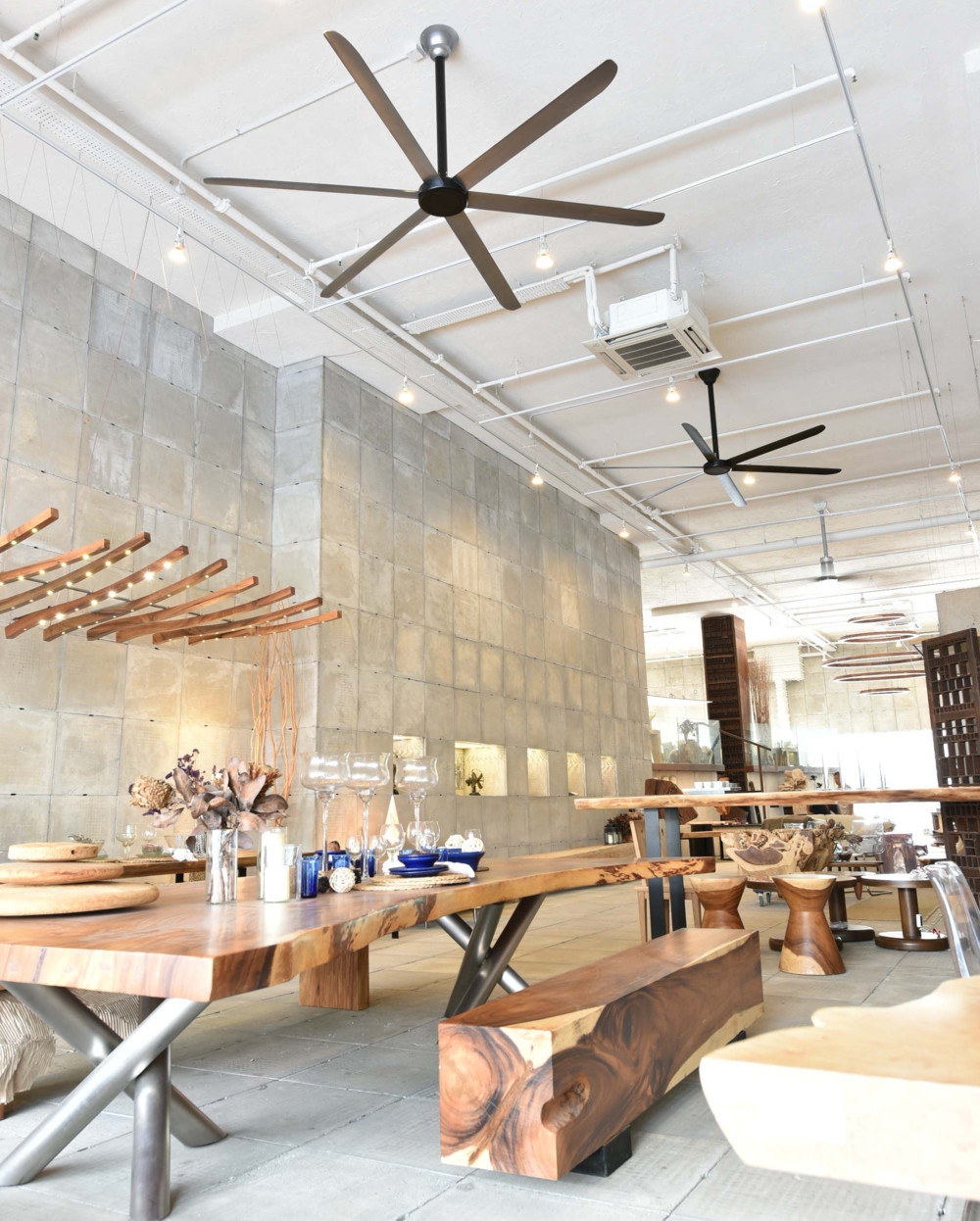 Why Choose Gracezone Fans
Quality & Reliability
Backed by 20 Years of Manufacturing Experience
Everyone at Gracezone Fans breathes design and engineering. We have been manufacturing electro-mechanical products for 20+ years for multi-national companies (MNC) worldwide.
We are Singapore's only designer and manufacturer of HVLS Fans.

BORN IN SINGAPORE
DESIGNED FOR THE WORLD
Key Features of Gracezone Fans

Minimalist Design
Sleek and slim.
Blends well into any space.

Quiet Operation
Quieter than most ambient environments.

Slanted Ceiling Compatibility
Up to 30° sloping ceiling

Ultra-Efficient Brushless DC Motor
High energy efficiency with small motor size

Ultra Low Power Consumption
Cost <$1 to run for 24 hours at max speed

Automotive Grade Paintwork
Vibrant colours. Custom colour options available.

Thin-Aerofoil Aluminium Blades
Low drag, ultra-efficient aerofoils

7 – 12ft Fan Diameter
Perfect for 4m to 8m ceiling heights

Summer and Winter Modes
Forward for air circulation & reverse mode for destratification

Lightweight and Easy to Install

Robust Construction
Aluminium and steel construction
Gracezone Fans · Creating Comfort
Watch how our HVLS fans create a cool comfortable environment. Anywhere.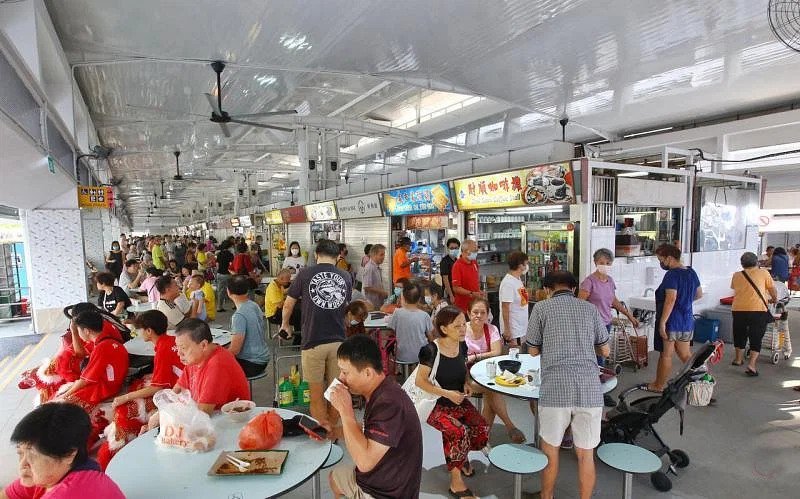 Bedok 216 Hawker Centre Enjoys Better Ventilation with New Gracezone HVLS Fans
The hawker centre and market at Block 216, Bedok North Street 1 reopened after three months of renovation. The hawker centre installed 19 of our HVLS fans for diners to enjoy a better ventilated and comfortable dining experience.
Read the full article here.
Image courtesy of zaobao.com.sg
Very prompt replies through their whatsapp channel and all their consultants and installers were very professional. In my opinion one of the best suppliers I have ever met.

Francis Ng


31/08/2022

My previous 72" fan although is quiet but do not generate sufficient ventilation even at full speed. Made the switch to GraceZone HVLS fan and it makes a huge difference in cooling us down even during hot weather. The fan is quiet during operations and we can enjoy the breeze in the living room without the need to switch on the aircon. Had positive experience from the company providing good advice, installation to excellent after sales services. Highly recommended for people who are looking for HVLS fan to cool their home efficiently and effectively.

Teck Huat Tan


05/09/2021

Don't waste time looking for others local HVLS BLDC fans company This is it Gracezone Fans company that is responsive to call reliable on service and workmanship. Install 2 units 8 feet n 7 feet true to the recommendations by Mr Ng Kai Wee Living n dining area windy and cooling No needs any more extra fans. Support local SME

Michael Yeo


05/09/2021

Don't waste time looking for others local HVLS BLDC fans company
This is it Gracezone Fans company that is responsive to call reliable on service and workmanship.
Install 2 units 8 feet n 7 feet true to the recommendations by Mr Ng Kai Wee
Living n dining area windy and cooling No needs any more extra fans. Support local SME

Michael Yeo


06/05/2021

Installation done smoothly & safely. The fan is beyond our expectations. Enjoying the breeze at low operating cost & quiet operation. Very happy with the locally produced fan.

Mun Tin


06/05/2021

What makes Gracezone special is not just their excellent product and the fact that they are a local company selling their own locally-developed product but their amazing service standard which demonstrates their belief and commitment in their product. Keep up the good work, Kal and Kevin!

sow wei Wong


06/05/2021

The 9 ft fan performance is excellent . Very windy can be felt at my kitchen , living area , dining and even patio . Very satisfied and worth every single cent. Now only need one big ceiling fan from Gracezone, instead of 3 standing fan and one small ceiling fan before.

Zac Rahman


06/05/2021

Excellent service from the staff of Gracezone fans, who took the trouble to understand my setup and my family's needs before proposing a solution. Setup was a bit more complicated with scaffolding, but the installation staff were careful, neat and professional. The fan works very well and cools the room down significantly. Very pleased with the investment in the big fan setup!

Nigel Tan


06/05/2021